Donate from your Pay
Workplace Giving is a simple way to donate to charities direct from your pay, and get your donations matched. Most companies match donations, so you could double your impact, giving your charity even more support!
Help
Hema Reddy

reach their target

Donations big & small make a difference
Donate Now
Donate now using your credit card or PayPal account using our secure payment gateway and receive a tax deductible receipt emailed directly to you

Donate from your Pay
Donating from your pay means companies can match donations, plus there's no need to keep tax receipts. Most companies match donations, so you could double your impact, giving your charity even more support!
link copied to clipboard
saving changes, please wait..
page successfully updated
error saving changes
file size exceeds 512kb.
$694

of

AUD

$1,000 target.
Raised by 0 people in days for OIC Cambodia (Education) (Global Development Group – J703N)
Give the gift of communication on my birthday!
Story
Hi there!

I'm putting the icing on the cake this birthday by fundraising for a cause that's close to my heart. I'd appreciate any contribution, big or small. But first, let me start by telling you a little about this worthy cause. OIC: The Cambodia Project was founded by Weh Yeoh (pictured on the left below) out of a chance meeting he had with Ling (pictured below), a 10 year old boy who no one ever thought could go to school due to his inability to speak clearly. People assumed he was not intelligent enough to be included and to participate. But through basic speech therapy, Ling was able to improve his speech little by little over many months of hard work, and not only transformed himself but those around him! At the age of 12, Ling started going to school for the first time. Now, he's not just participating, he's excelling!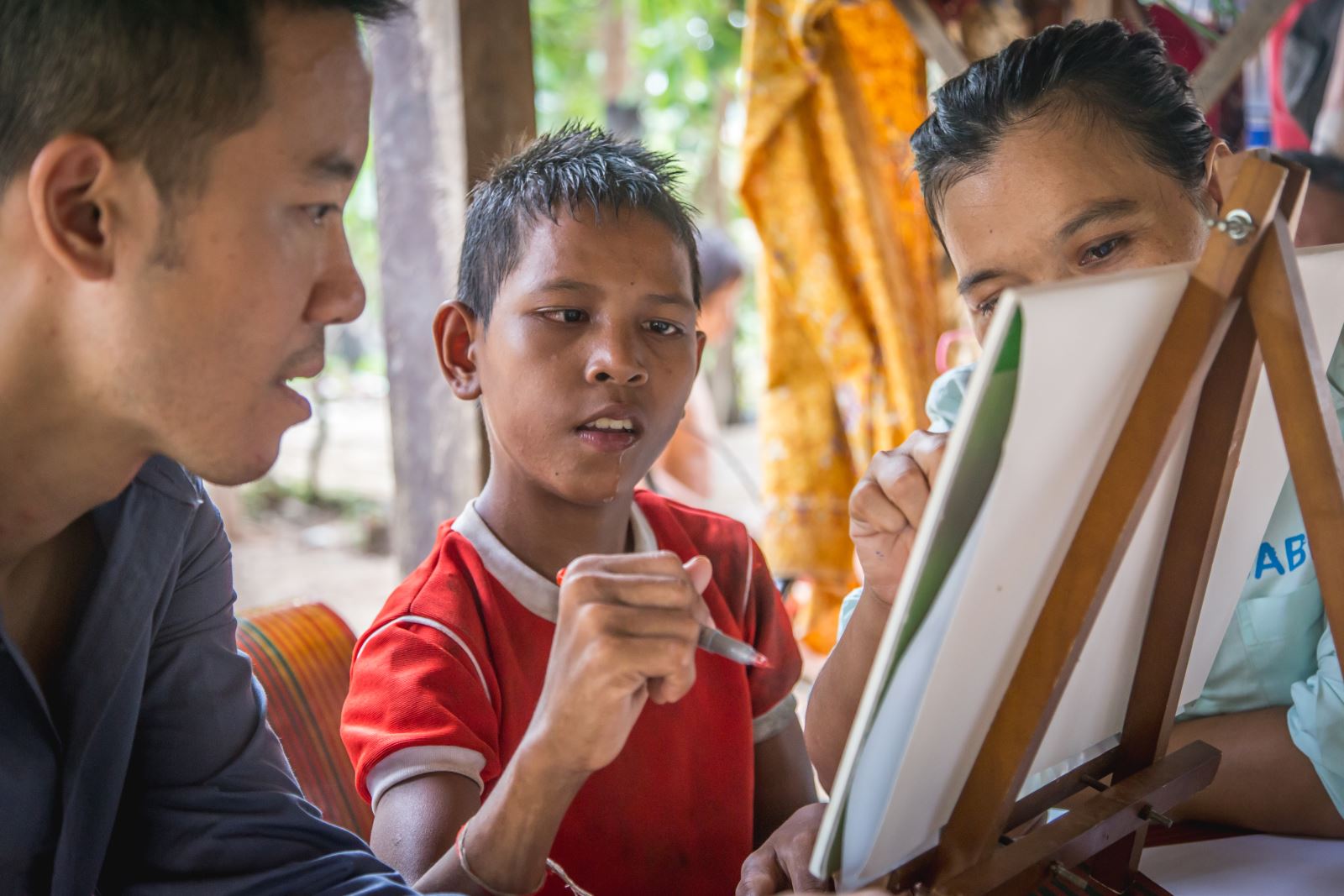 The work that was done with Ling two years ago proved that through speech therapy, a child's life can be changed. And yet, in Cambodia, there is not one single Cambodian speech therapist. We know that there are hundreds and thousands of other children like Ling out there who need it.
OIC aims to establish speech therapy as a universally accessible locally led profession in Cambodia. OIC has taken on an issue that affects 1 in 25 people in Cambodia, one that has not previously received attention by organisations such as the United Nations. However, it only takes individuals like you and me, people who believe in creating significant change, to make incredible things happen.
And so, on my birthday, I'm hoping to raise $1,000 to make the dream of getting speech therapy to every child in Cambodia! It's an extremely ambitious goal but with your help it will be possible!
Donations made through this platform are secure, tax deductible if you are in the US, UK and Australia, and funds that go to OIC will be entirely spent in Cambodia.
To read more about how OIC began, why this is something that we should all care about, and how you can be part of this journey, please follow this link: http://oiccambodia.org/stories/speech-therapy-at-sas-global/

Thanks so much for your support!
Your friend,
Hema
read more

The fitness feed has been disabled by the page owner.
placeholder text


OIC Cambodia (Education) (Global Development Group – J703N)
OIC Cambodia (Education) is a Global Development Group approved aid and development project (J703N)  which aims to address the gap in health services in Cambodia for more than 600,000 people with a communication or swallowing disability.
Communicating with others is at the heart of being human and helping people communicate is at the heart of what we do. We are working towards a Cambodia where each of these people receives the speech therapy services they need to communicate with those around them, and lead full and happy lives.
We have two significant goals to addressing the speech therapy needs in Cambodia:



To train teachers in speech therapy-based inclusive education to better include children with communication disabilities into schools. This project will benefit 180 teachers and 5,400 children with communication disabilities across six provinces in Cambodia.

To graduate the first generation of Cambodian speech therapists from a Cambodian university.

OIC Cambodia is proud to be a partner for Project J703N OIC Cambodia (Education) with Global Development Group (ABN: 57 102 400 993), an Australian DFAT approved Non-Government Organisation.
Gifts over $2 with a preference for this approved development project are tax deductible, receipts issued by Go Fundraise on behalf of GDG. Excess funds may be directed to another approved activity. Please note, no non-development (evangelistic, political or welfare) activities are a part of, or funded by, GDG projects. For more information please visit www.gdg.org.au  
read more
Created by
Hema Reddy
for OIC Cambodia (Education) (Global Development Group – J703N)